Working with Dogs and Puppies

A dog goes as far as it is taught!
Some dogs get dangerous to walk with their owners in the park, when a dog owner is not trained to handle his own dogs in public areas. 
At CrossPawsK9, we offer learning to obey as well as socializing with other dogs. 
Our training consists of changing dogs' behaviour due to fear, aggression, anxiety, impulsivity and training general good behavior. 
We offer individual (one-on-one) dog training; "house call option" or "board & train option" within Klang Valley and the surrounding areas. 
An assessment with trial training and remote consultations can be arranged.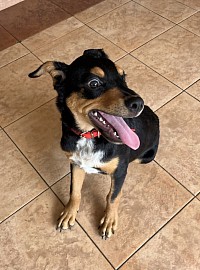 Max Junior is a mixed breed listening attentively during obedience class!
What's good about Dog Obedience Training?
Training can enrich the owner and dog relationship and making living together more enjoyable. 
A good trainer know how dogs think and teach you to communicate with your dog in a way that your dog understands.
A well trained dog comes when it is called, walks nicely on a lead and doesn't chew your furniture and poop in the house. The dog is more confident and not aggressive around people and other dogs. Training is the foundation for solving just about any dog behavioral problem.
Click Next … About Us
Click here for our Location or Contact Us now.