About Us
Our Services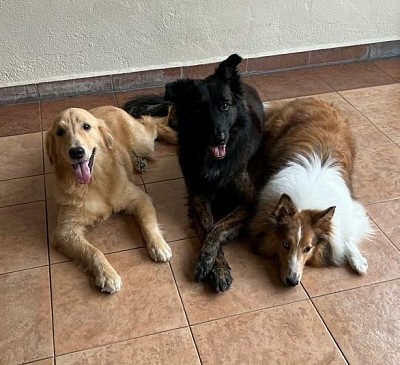 We provide individual (one on one) and small groups training on dog psychology,  dog behavior correction and dog obedience training for all breeds and size dogs.

Our Dog & Puppy Training Courses
> Dog Behavioral Assessment; 
> Dog Obedience Training (for puppy and adult dog); 
> Dog Socializing; 
> Dog Aggression Rehabilitation;
> Micro Courses for dogs and puppy
Our Courses are perfect for …
Puppy's first learning; 

New to training and lacking manners or terrible teens; 

Have had some basic obedience command training and have some good social manners, but needed improving manners at home and in public places.
Rehabilitation for stubborn and aggressive dogs to other dogs and people.
Dogs with specific behavioral issues and pet's owner not able to control over his pets. 
About Dogs Obedience Training and Puppy Training - Small to Large Breeds
Almost similar to most behavioral concerns on dogs, such as hyperactivity, chewing on things, biting, whinny, barking, and growling at the owner during meals (a display of protective behavior over food, treats, and food bowls).
Puppies and dogs can be trained and learn to walk side by side with their parents gracefully and calmly.
Our services include house call dog training, as well as boarding with training services for both puppies and adult dogs.
We are based in Puchong. Our dog and puppy training services are available in KL Selangor and the surrounding areas.
About Our Dog Trainer
Aston (our dog trainer) has more than four years experience in dog training in Malaysia, and is passionate about training dogs. He managed all the training personally (from the start of the course to the end) and put in the extra hours in handling aggressive and socializing dogs. 

He has completed a comprehensive dog training program locally and an assessment by the US knowledge base for professional dog training. He also holds an Australian Animal Care Veterinary Certificate.
Qualifications Attained : 2021-2023
Foundation Certificate in Veterinary Assisting for Animal Handling & Transport, Health & Safety at Work, Anatomy & Physiology, Nursing the Veterinary Patient, Small Animal Nutrition, and Sustainability Work Practices from The Australian College of Veterinary Nursing, Australia.
ACMGAS307 Identify animal anatomy and physiology for animal care work; ACMSUS201 Participate in environmentally sustainable work practices at UQ Skills, Registered Training Organization, The University of Queensland, Australia.
Certificate in CPDT-KA Test Preparation Course. Areas of study: Instructional Skills; Animal Husbandry; Ethology; Learning Theory - a. Classical Conditioning, b. Training Problems, c. Environment Management; and Equipment from The Association of Professional Dog Trainers (APDT).
Check our Dog Training Video Series on our Facebook page.
Click here for our Location or Contact Us now.